Published in Autumn 2020, the transnational report presents the results of a needs analysis for gender sensitisation and prevention of gender-based violence with male* refugees and migrants. The project's interdisciplinary team from six countries, together with national experts, have identified needs, resources and good practices in relation to violence prevention work with male refugees and migrants. Based on this analysis, quality standards have been developed for gender sensitisation and violence prevention programmes.
Using both quantitative and qualitative methods, each country produced a needs analysis which was then used to produce the transnational report. Research methods included experts' workshops, focus group discussions, semi-structured interviews with professionals working with male migrants and refugees and/or in the fields of gender-awareness, masculinities, and violence prevention, and an online questionnaire which returned over 250 responses from 6 different countries.
Read the summary of the report here in: EN, DE, IT, HRV, EL, ESP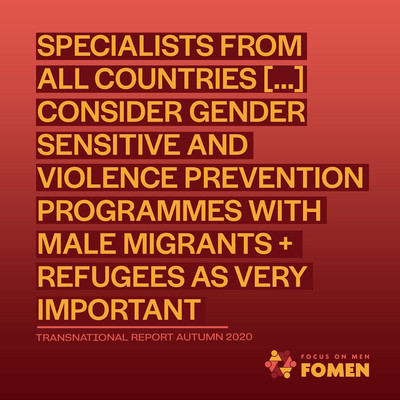 The needs and resources analysis shows that professionals from all countries, beyond the institutional differences and the different governmental policies, consider gender sensitive and violence prevention programmes with male migrants and refugees as very important. Also highlighted was the need for a deep understanding of a migrant's/refugee's current situation, as well as the impact of the experiences during the flight or migration process, including on their understanding of gender and family roles in relation to social norms and stereotypes, both in the past and within the current circumstances.
The report also highlighted the importance of the satisfaction of basic needs of refugee and migrant men*, such as access to asylum and mental and physical health services. Safe spaces, where men* can talk about the migratory process and exchange thoughts and experiences, are also an important part of this.
Regarding the approaches that should be followed by professionals in gender sensitive and violence preventive work, all countries agree that the work with men for the violence prevention should follow a non-discriminatory approach and apart from their own background, diversity and categories of affiliation, the trainers should always have in mind the cultural background of the participants. The language barrier is also an issue that was discussed extensively in both parts of the research, especially in countries where there are not many migrants and refugees (e.g. Croatia). Where there is a lack of interpreters, this is an obstacle that should be overcome. All the participants in the research highlighted the importance of language in the implementation of the project. The participants expressed the need of further training and capacity building of professionals who work with migrant and refugee men. Few of the participants are considering themselves adequately trained and prepared to work with men for a violence prevention program, although they have expressed this need to their managers.
A training programme for the professionals ought to aim to increase their own awareness first in the fields of migration and in non-discrimination, feminism, patriarchy, and masculinities. Professionals do not consider they are well informed and familiar with meanings like these, and they wish to be further trained. An educational programme could use more interactive tools such as role playing and case studies for this purpose. Another need that a training program should cover is providing information to professionals about the national and European policies regarding migration, asylum process and gender-based violence. Material easily accessible and understandable should be available to professionals who wish to work on gender sensitivity and violence prevention projects with refugee men. This could be achieved with regular trainings (online but also with physical presence) and with available links in the websites of the project, yet also coming from other organizations.